Regular price
$79.99
Sale price
$69.99
Unit price
per
Sale
Sold out
Finally, we put all the best brownie-making things into one box!

The Baker's Edge Complete Set.
The Original Edge Brownie Pan

Custom Silicone Lid

The Edge Wedge

Spatula

Some of our favorite recipes
Love brownies? So do we. Who doesn't right? We think the best ones have moist centers and lots of chewy edges.

This patented pan is THE original Edge Brownie Pan. A pan that was designed to be the best brownie baking pan ever conceived.
- The only zig-zag and sectioned brownie pan that adds two crispy, chewy, and perfectly crunchy edges to every brownie.
- Give every brownie in the batch that delicious "corner crust"
-  Better heat distribution, better baking
Shipping

We ship anywhere in the continental United States. Just add the product to your cart and when you enter your zip code you'll find out your shipping costs and transit times.
Share
View full details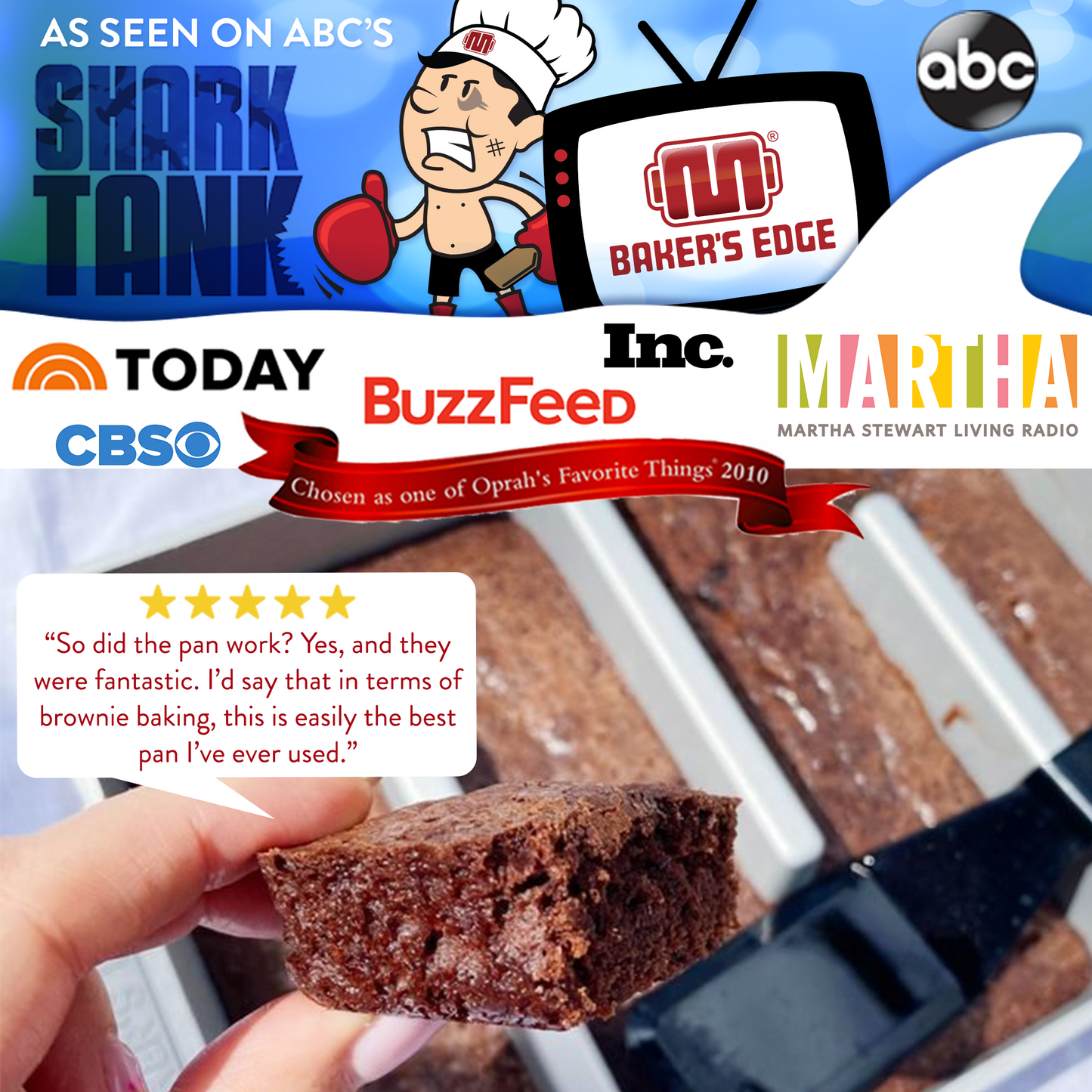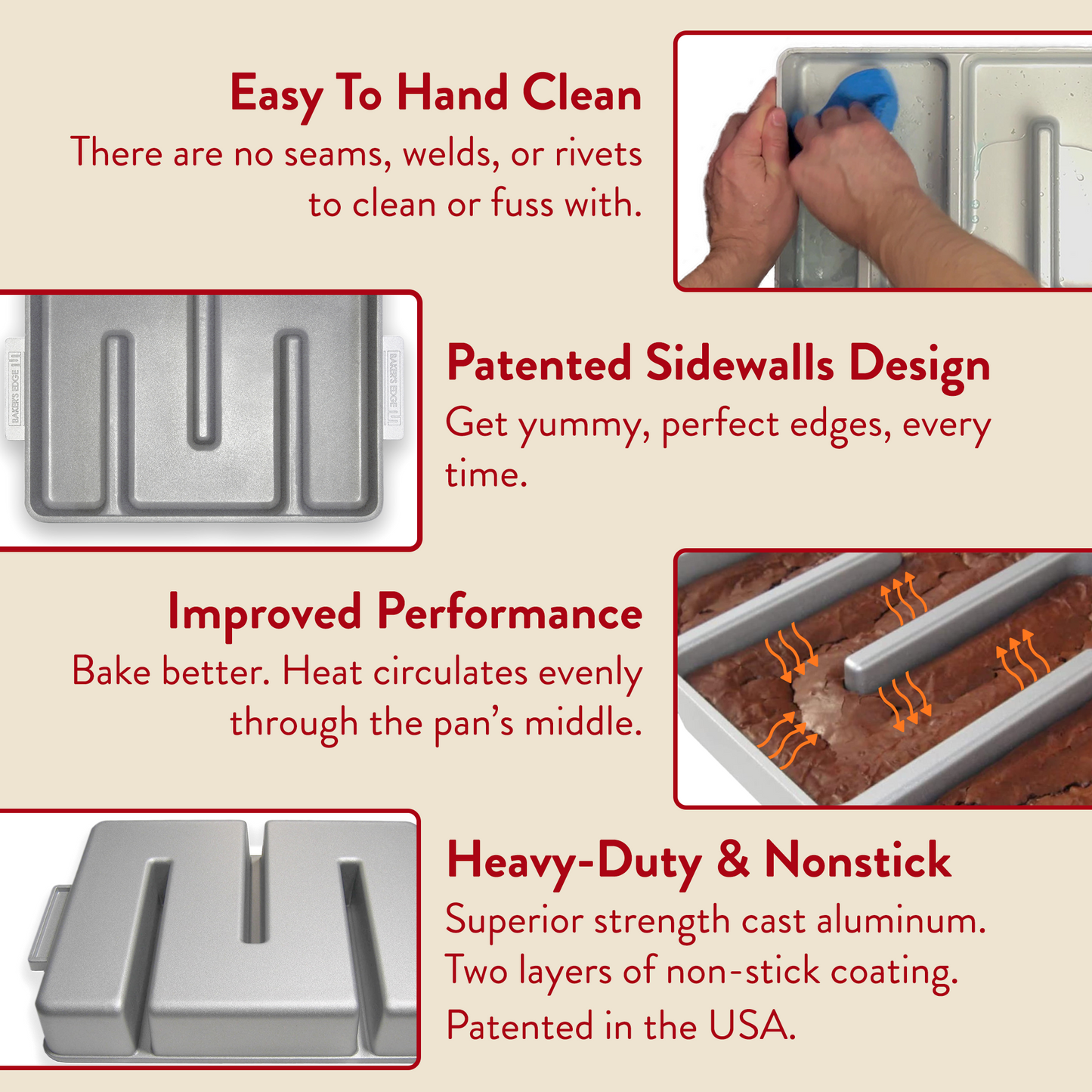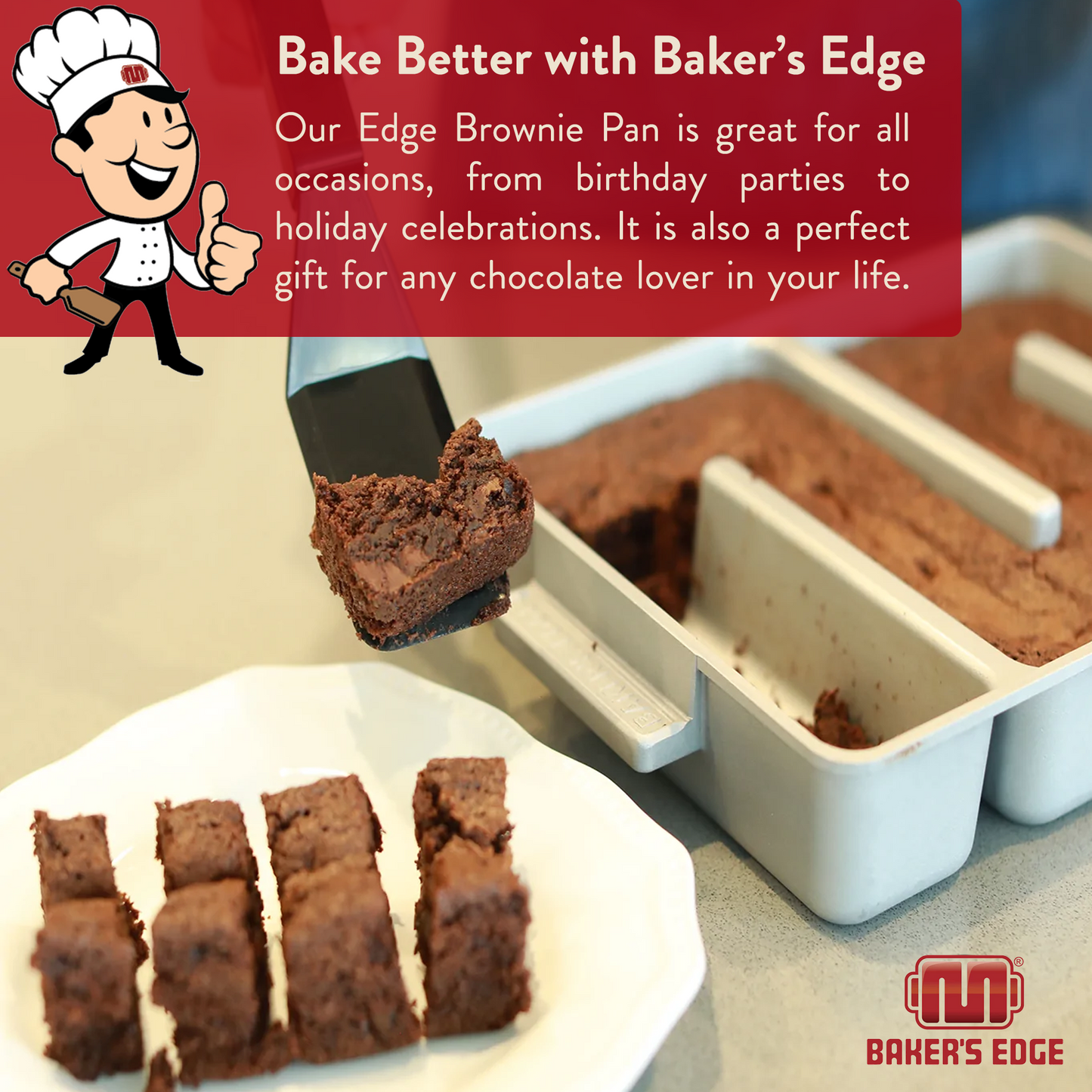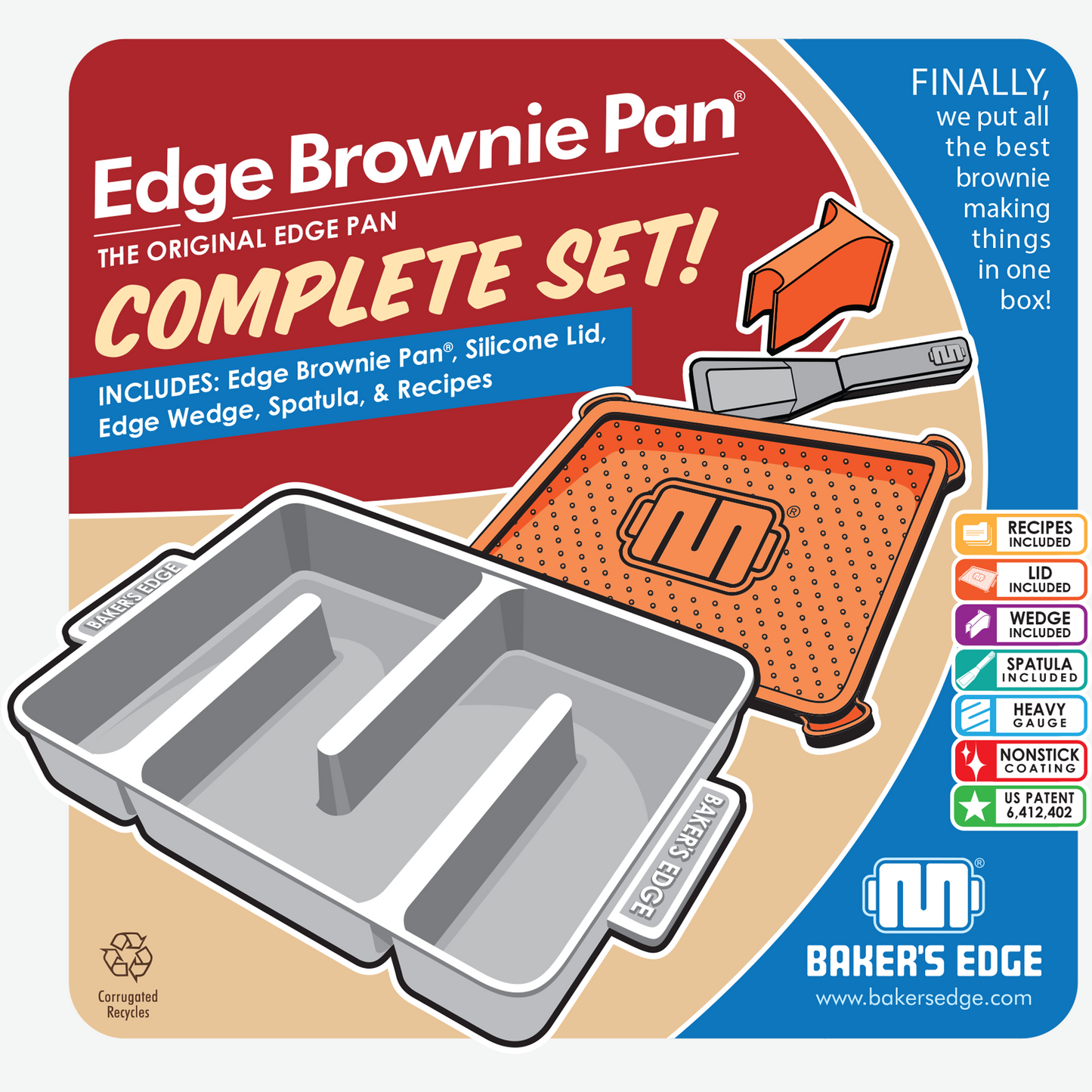 Complete Set Comes with Lid & Wedge
This complete set comes with the Edge Brownie Pan PLUS a Lid and Wedge.
The wedge turns your edge pan into 8x8 size! Perfect for corn bread or smaller box mixes!
The lid makes carrying your dish to the potluck even easier. You can re-heat or cook with the lid if you want to - this super-duper silicone lid can be heated up to 500 degrees.
Brownie fanatics, meet your new best friend.
Love brownies? So do we. (Who doesn't, right?) We think the best ones have moist centers, a paper-thin crackly crust, and lots of chewy edges. If you agree, you'll love the Edge Brownie Pan™.
❤️ It's the only gourmet brownie pan that adds two chewy edges to every serving. ❤️
✔️ Improved Baking Performance
The pan's patented sidewalls also improve baking performance by circulating heat evenly to the pan's middle, where food typically takes longer to bake.
✔️ Easy To Spread Batter
Unlike baking pans that have multiple cavities (like a cupcake pan), our single-chamber design allows the batter to be easily spread. Use a flexible spatula, or simply give the pan a few firm shakes. The batter will settle evenly throughout the pan during baking, so every serving will be baked to perfection at exactly the same time.
✔️ Indulge in Perfectly Baked Gluten-Free Brownies 
Gluten-free flour typically has less protein, which can result in a more crumbly and delicate texture. Gluten-free brownie batters may be more dense or contain more moisture, making it challenging for the heat to penetrate and cook the middle thoroughly with regular pans. Our specialized Edge Brownie pan distributes heat evenly and promotes consistent baking for achieving perfectly cooked gluten-free brownies every time.
✔️ Easy To Clean
Our pan also has a quality nonstick coating and smooth, round corners so it's always easy to clean.
✔️ Super Strong
It's made of heavy-gauge cast aluminum for superior strength and the 9" x 12" size is perfect for box mixes, as well as most recipes for 9" x 9" and 9" x 13" conventional pans.
✔️ Spatula & Recipes Included
A nylon spatula and a brownie recipes insert are included.
✔️ Widely Acclaimed
Widely acclaimed for its innovation and quality since its launch in 2006, our Edge Brownie Pan™ has quickly become one of the most talked-about new products in bakeware.
✔️ Featured In Publications
Thanks to the word-of-mouth from our loyal fans and fellow brownie fanatics, our pan has been featured on the Martha Stewart Show, the CBS Early Show, NBC's TodayShow, and the home pages ofMSN.com and AOL.com (twice).
Watch a sledgehammer meet the the edge pan
Reasons You'll Love This Pan
✔️ Adds two chewy edges to every brownie. Yum!
✔️ Fits standard box mixes with no adjustments necessary. Woo hoo!
✔️ One continuous chamber, so batter can be easily spread. Nice!
✔️ Interior sidewalls circulate heat evenly to every serving. Hey Now!
✔️ Durable nonstick coating and round, easy-to-clean corners. Thanks!
✔️ Heavy-guage cast aluminum construction (professional grade). Awesome!
Product Details
Included: Brownie Pan, Lid, Wedge, Spatula, and Recipes Insert
Dimensions: 9" x 12" x 2"
Edge Surface Area: 150 Square Inches
Volume: 11 cups
Weight: 2.5 Pounds
Material: Cast Aluminum
Nonstick Coating: Premium Grade
Oven Safe: 500 Degrees
Broiler Safe: Yes (for browning)
Cleaning: Hand Wash
Recommended Utensils: Nylon, Wood